Boutique Vineyard, Renwick, Marlborough
Gibson Bridge is a boutique family owned vineyard located in Renwick, the heart of New Zealand's premium white grape growing region - Marlborough. Howard and Julie Simmonds have established, and tend their vineyard on the bank of the fast flowing alpine fed Gibson Creek. Howard planted the block with Pinot Gris as a mainstay but also with tiny quantities of Syrah, Malbec, Merlot, Pinot Noir and Gewürtztraminer. Gibson Bridge produce small quantities of premium wine with Howard the Viticulturist and Phillip Steel, Head Wine Maker at Marlborough Vintners.
You can find us on the main road through Renwick on the way to Nelson from Blenheim, 400m from Renwick Village (see map). We are open 7 days in SUMMER from 11am until 4.30pm, in WINTER from 12 noon until 4.00 pm or phone us on mobile 021 947 555 for tastings and wine sales (we live on the vineyard only 100 metres away).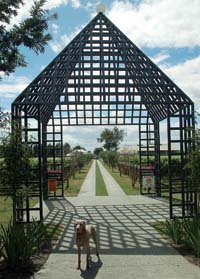 Buy Online
You can purchase our wines via our shopping cart. Simply click here.
Our Awards
Gibson's Bridge Reserve has been awarded over 20 medals in their first 2 years including GOLD in the NZ International (156 Pinot Gris entries). We also were 2010 Supreme Winer of the Marlborough "Cellar Door" with a first time ever 100% award. This is an award for excellence in knowledge, presentation, and welcome.
License Holder Information
License Holder: Renwick Vines Limited
Expiry Date: 5th July 2023
Click here to view full license