About Our Vineyard
At one stage or other in our lives, those of us that live in the city have dreamed of forsaking the stress and bustle of whichever metropolis we inhabit for the pleasures of a relaxed rural lifestyle.
Yeah right! If a vineyard is your dream it's certainly likely to be pretty rural, but relaxed is not the word that readily comes to mind. Planting, pruning, leaf plucking, spraying and even harvesting are no lightweight tasks and on a small vineyard they can be just as labour intrensive as in a larger one. Pruning frost hardened vines under the shoulders of Marlborough's Richmond Range mountains is a far cry from the latte lanes of Ponsonby or the café culture of Courtney Place. Watching sunsets through a Reidel glass filled with your latest Pinot Gris is not a commonplace experience for anyone in the viticultural business!
But that does not mean that the 'shift' from city to viticultural pursuits is not without huge rewards and as Howard Simmonds, ex Auckland builder, timber merchant and developer will tell you, life has never been better since he shifted to Renwick and planted a 2ha vineyard just outside the town.
Howard had always had the dream of retiring to a country lifestyle that would provide him with a 'retirement project' and interest. "I have always loved the sound of running water and I also really appreciate the distinctive passage of the seasons. The property I bought in Renwick fulfils both these dreams. It has a stream running through it and the climate of Marlborough certainly changes quite distinctively as the year progresses. Both these factors made Julie and I decide to settle in Renwick rather than Noosa or Port Douglas which were our other options. I wanted a project that I could manage in my retirement. I didn't want to look forward to reaching the age of 70 or 80 unable to do things and just sitting around waiting for the paper to arrive."
"So far I've certainly not had much time to sit around! I had to clear the site before planting as well as creating an attractive cellar door out of a disused flower shop. I do all viticulture work myself and at the end of it all it is extremely satisfying not only to see a tidy well cared for vineyard but also to be able to taste the wines that come from it."
Howard planted the block with Pinot Gris as the mainstay but also a small block of Gewurztraminer. "We've planted very close rows since we can do much of the work by hand and as a result we've got more than 5500 vines. We are aiming at producing small quantities of premium wine. Our wines are made for us by Phillip Steel, Head Wine Maker at Marlborough Vintners, and we've just bought some new barrels as well as getting some well seasoned ones and we're looking forward to experimenting with the use of a little oak on the Pinot Gris."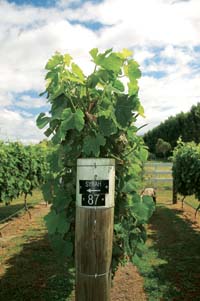 If you ask Howard what he misses he talks wistfully about the restaurants, the coffee and the general shopping but he reckons that he can happily forgo them to enjoy the cool nights and the stunning clear days. "And in any case I still spend a fair amount of my time in Auckland on business. But now the vines are my front lawn and I just love the friendliness of the region where a tractor is as respected as a Porsche. While the lifestyle is not necessarily any easier it is more measured and there's time to enjoy life with a little less pace."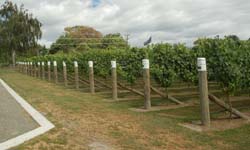 Howard points out that the love of rivers and streams and idea of searching waterways for the ideal spot to settle is nothing new in his family. "My great grandfather rowed up the Waiti River in 1841 looking for a place to settle. He built a hut of punga logs and stayed.
150 years later I travelled up every river in Blenheim looking for a site that would fulfil my expectations and I found it with Gibson Bridge."